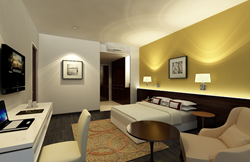 Bangkok (PRWEB) August 13, 2014
Best Western International will arrive in yet another fast-growing Malaysian city later this year, with the launch of its first hotel in Shah Alam.
Strategically located in the heart of this up-and-coming city, BEST WESTERN i-City Shah Alam will be a modern midscale hotel, offering optimum comfort, convenience and connectivity for both business and leisure travelers.
As the capital of the state of Selangor, Shah Alam is a key economic hub in Malaysia. Located just 25km from Kuala Lumpur and 30km from KLIA, the city is at the heart of the countrys development, and provides an ideal setting for Best Westerns new generation of contemporary hotels, said Glenn de Souza, Best Western Internationals Vice President of International Operations for Asia & Middle East.
I am delighted to be able to introduce the BEST WESTERN i-City Shah Alam, bringing our famous international standards to yet another exciting city of Malaysia, he added.
Scheduled to open in the fourth quarter of 2014, BEST WESTERN i-City Shah Alam will combine modern design and amenities with the traditions of service excellence for which both Malaysia and Best Western are famous.
The hotel will feature a total of 216 contemporary guest rooms and suites, all equipped with such modern amenities as 32-inch LCD televisions, minibars, working desks and tea and coffee making facilities. And as with all Best Western hotels worldwide, high-speed Wi-Fi is complimentary.
Guests will be able to sample local and international dishes at the hotels Coffee House restaurant, while the corporate market is well catered-for with a choice of three meeting rooms, able to handle up to 120 delegates.
Malaysia is an incredibly exciting market for Best Western International. With four hotels already open in the country and a further ten in the pipeline, we look forward to serving the needs of ever more Malaysian and international guests in future, Mr. de Souza concluded.
BEST WESTERN i-City Shah Alam will join Best Western Internationals existing collection of midscale and luxury hotels in Kuala Lumpur, Ipoh, Kota Kinabalu and Sandakan.
Currently, Best Western has a portfolio of more than 200 hotels across Asia. And the company expects to increase its regional collection to 300 properties in the next few years. Best Western first launched in Asia & the Middle East in 2001 and now covers 27* countries in the region.
For more information on global development opportunities with Best Western International, please visit bestwesterndevelopers.com.
To learn more about a specific hotel or discover other Best Western hotels across the world, visit http://www.bestwestern.com.
About Best Western International, Inc.

Best Western International, Inc., headquartered in Phoenix, Ariz., is a privately held hotel brand made up of more than 4,000* BEST WESTERN