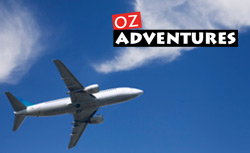 Hertford, Hertfordshire (PRWEB UK) 27 February 2013
Taking a gap year is all about adventure and new discoveries. Australia is the first destination that pops into mind when thinking about a gap year travel. If this is the case, its a good idea to look at flights to Australia with stopovers to break up the long journey.
The destination choices are extensive and its worth talking to an experienced agent that can advise on the most convenient way to squeeze in a flight stopover en route to Australia.
There are so many amazing places in Asia ideal for a mini adventure including Hong Kong, Malaysia, Bali and Thailand. A gap year is a trip of a lifetime so it is a must to make the most of it. When taking a flight to Australia with a stopover in Malaysia, Hong Kong or Dubai heres just a snapshot into what a mini adventure could entail.
Malaysia

Landing in the capital Kuala Lumpur, it is impossible to miss a visit to the beautiful Petronas Twin Towers. Marvel at the stunning architecture and at 88 storey high, theres no better way to gain an outstanding view of the city. And for a natural tan before landing in Australia, a visit to one of the beach resorts of Langkawi or Penang is recommended. Depending on how long the stopover is, it is even possible to get a short flight to Borneo, see some turtles lay eggs, climb Mount Kinabalu or visit the famous Sepilok Orangutan Sanctuary and learn about how these fascinating creatures are rehabilitated.
Hong Kong

Stop by for the worlds yummiest dim sum and some of the best shopping in Asia! This is the place to get a suit custom made to look dapper for those job interviews in Australia. Night markets are so entertaining and a trip to Lantau Island is definitely worth it to visit the Po Lin Monastery and the Big Buddha. In fact, it might be probable to see the Big Buddha from the airplane when flying into Hong Kongs state-of-the-art airport. The Big Buddha sits 34 meters high and climbing the 268 stairs to reach it will definitely keep travellers fit. Some advice for those choosing a HK stopover would be to make sure to have enough room in the suitcase and haggle hard!
Dubai

Perhaps seeing the worlds tallest building is in the gap year travel list? Well its not in Australia but it is doable as a flight to Oz with a stopover in Dubai will do it.
Dubai is home to the Burj Khalifa. This sleek and silver building is 2722 ft high and it is indeed the tallest building in the world. Tom Cruise was filmed jumping off it for one of the films in the Mission Impossible series, and if its good enough for the actor, a picture with it is surely good enough for the gap year photo album.
Dubai is one of the worlds richest cities and home to the worlds largest shopping mall. Shopping is tax free but if on the budget, it is possible to still enjoy the spectacular fountain and light show laced with music in front of the Burj Khalifa for free at regular intervals. Its not to be missed.
If lounging on a private beach and sipping cocktails in a five-star hotel is not preferable, a visit to the souks and markets may be enjoyable. The gold souk and the spice souk are highly recommended for bargains.
Lets not forget too that this country is in the middle of the desert. The terrain is perfect for jumping into a four-wheel drive vehicle for a safari trip and pretend to be Princess Jasmine or Lawrence of Arabia. Ride a camel, and watch the sun set as being entertained by belly dancers over a meal.
Arranging to go on a dune buggy tour is recommended too. Spend a morning just driving up and around the sand dunes. Driving down a sand dune at speed can be quite thrilling just make sure not to get stuck in the sand! Its fun, a little surreal and the scenery is beautiful. Spending some time in the heat will certainly help to get accustomed to the temperatures in Australia anyway.
Theres certainly enough to pack in no matter how long or short the stay is. Its good to break up any flights to Oz, and if stopping by in Dubai, there will already be lots to write home about before even starting the Australian gap year adventure.
Getting a flight to Australia with a stopover is easy. The hard part is really deciding what country to stop at! For more information and advice on choosing a stopover for a flight to Australia, call Oz Adventures on 0844 567 8500 or visit http://www.ozadventures.co.uk/australia-flights-stopovers/.